Mooring Buoy Sinker
Mooring Buoy Cast Iron Sinker
sinkers are adequate to keep buoys in their assigned positions. They do not provide the resistance or holding power of anchors of the same weight but have the great advantage that they will provide the same resistance irrespective of the direction that the mooring load is applied.

Sinkers may be made of concrete, cast iron, rock or bundles of used chain.

The effective sinker weight will be equal to the weight of the sinker in air minus the weight of the water displacement, that is roughly 66% of Air weight.

Rock Sinker can be made by fixing a mooring eye in a piece of rock, or large stone. This may be effective if there is a local supply of dense stone in suitable sizes. However, it is very difficult to assess the condition of an individual rock and it can break in service. Now a days it is an ancient system and no way stable and trustworthy and many accidents occurred due to this type of Sinker.

Concrete Sinker are of moderate cost and are manufactured by casting concrete into a suitably shaped mould with a metal eye for attachment of the mooring chain cast in place. However, they are considerably larger than cast iron sinkers of the same submerged weight and thus take up valuable storage space in the depot or on the buoy tender's deck. Care must be taken in all aspects of their manufacture so that they do not disintegrate or allow the mooring eye to pull out. The quality of the concrete must be carefully monitored to ensure it is of the specified density. But As volume of Concrete Sinker are approx 3 times that of Cast Iron Sinker, It has adverse effect of undercurrent.
And self life is very limited so now a days most systems are preferring Cast Iron Sinkers.

Cast Iron Sinker is the most durable and effective sinkers are made of cast iron. Their density compared with concrete is approximately in the ratio of 3:1.
Cast iron sinkers are robust and the repair or replacement of the mooring eye is possible.
If a mooring is prone to sanding in, a cast iron sinker will be easier to extricate than a concrete sinker because its physical size is smaller. Only this type of Sinkers have good scrape value.
There are many designs and shapes of cast iron sinkers. We are manufacturing Oval Cast Iron Sinkers and Dome / Semi Circle Cast Iron Sinkers from 200 Kg to 10000 Kg.

The two main factors which influence the service life of a mooring system are wear and corrosion These two factors are interactive since the products of corrosion rapidly accelerate wear. Which are very well controlled in case of Cast Iron Sinker.
Product Description :
1. Type: Sinker
2. Material: cast iron
3. Shape: oval / Dome
4. Dimension: As per standard or Custom Need
5. Weight range 200 Kg to 10000 Kg
6. Application: mooring system, offshore platform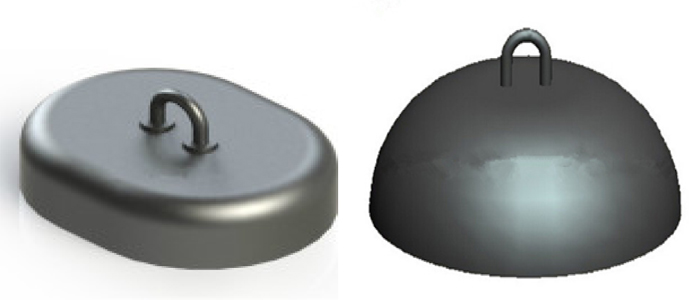 Our Service : Our company aims to provide the high quality products, competitive price and excellent service for our customers. We supply both standard and customized products to meet our customer's various needs.

Product Range : Besides the sinkers, we manufacture Variety of Chocks, Bollards, and associate product Container Corner as per ISO 1161.